Here at Hurst we understand that our education clients face unique challenges in delivering the best learning environments for their students, whether this be the conversion of classrooms to alternative uses ie. science rooms, common areas, libraries or recreational areas or the fit out of new teaching spaces.
With our in-house joinery production facility we are able to design and manufacture bespoke joinery items to meet individual requirements e.g. reception desks, library shelving, laboratory furniture and storage. In addition we can draw on the expertise from our Ceilings and Flooring division to deliver all types of suspended ceilings , soft floor finishes, floor/wall tiling and internal partitioning solutions.
Hurst have an excellent track record of delivering quality projects of all sizes, on time and on budget. Our extensive experience means we have a clear understanding of the constraints of working within live teaching environments ensuring minimal disruption to staff and students.
DOWNLOAD our dedicated Education Portfolio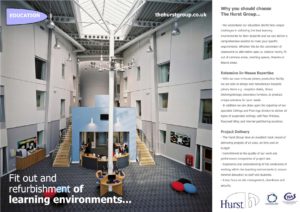 EDUCATION CASE STUDIES