The Hurst Group have extensive experience of the design, manufacture and installation of all types of bars, even bars within offices! Our in-house setting out department will develop your ideas and concepts and produce accurate working drawings ready for manufacture in our state of the art manufacturing facility.
Designs can include for example: ceramic tiling, glass tops, stainless steel, zinc, copper or of course more traditional wood panelling. Our in-house electrical team can also advise on the most efficient type and use of lighting to create the best overall result.
Get in touch today and we can provide estimated costings for your project requirements, simply email marketing@thehurstgroup.co.uk.
DOWNLOAD our Bars Portfolio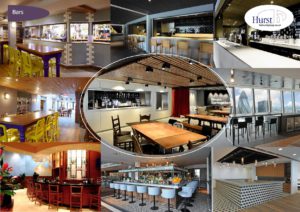 BAR CASE STUDIES